Contractors and installers looking to support their clients in delivering the best conservatory experience have been increasingly specifying Equinox – the solid and fully insulated tiled roof system that enables any occasionally-used conservatory to be transformed into a welcoming living space that can be used all year round. It is highly energy efficient, helping to reduce heating bills and is approximately ten times more efficient than an A-rated double-glazed window.
For decades, traditional conservatories with glazed or polycarbonate roofs have gained a poor reputation that has increasingly reduced their appeal. They are either too cold to spend time in across the winter or become uncomfortably hot in the summer months. This has led to a growing problem following consumer investment into providing an additional space for the home that is then left frustratingly empty or under used for large parts of the year.
The Equinox solid tiled roof system has made such issues a thing of the past.
It provides the consistent room temperatures that the market has been calling for and is bringing conservatories back in from the cold – literally. It is already a market-leading solution, popular with installers and property owners as a proven roofing answer that delivers all year-round comfort and useability.
Shining a light
And whilst concerns caused by temperatures in the conservatory have been addressed, Deeplas has looked to further enhance the wow factor for homeowners.
Installers looking to engage with existing and prospective clients seeking to achieve the ultimate conservatory experience, now have access to another superior product solution that builds upon the guaranteed temperature comfort the Equinox solid roof creates.
The innovative and design-led Equinox Vega flush skylight solution helps to optimise the amount of natural daylight that can flood in and transform the ambiance of conservatory living spaces.
The solution allows up to 850mm width glazed areas to be incorporated into the Equinox tiled roof solution through highly attractive flush fitting skylights. Vega fills living spaces with a natural light source for an airy feel that truly complements the temperature comfort that Equinox roofed conservatories are famed for.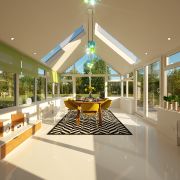 Quick and easy to install, and suitable for all styles of conservatories, the Equinox roof system and Equinox Vega skylights, are part of the market-leading solutions package that can impress homeowners and help create additional business growth opportunities for installers.
With changes to working habits set to stay, and the rise of hybrid working models meaning more time spent at home, many people are currently reappraising how they would like to enhance, change, or simply improve their living spaces.
The ability to create a welcoming, and comfortable conservatory space that is bathed in natural light and can be used on the coldest night or during the warmest day, will help installers commercially benefit from what is set to be a changing consumer relationship with their homes.