The next generation composite cladding
Coastline is the newest addition to the Deeplas range. An innovative composite cladding that enhances the appearance of any property, it adds up to 10 years of guaranteed weatherproof performance to every exterior. What's really revolutionary is that Coastline has minimum contraction or expansion, whatever the weather conditions.
Specially developed aluminium rail and fixing system
Foamed composite base material with fire retardant
Co-extruded with a UV-stable colour cap with outstanding fade resistance
Minimal expansion/contraction
Impact tested to rigid profile standards
Skin – Acrylonitrile Styrene Acrylate, colour matched to RAL colour ranges
Highly weatherable premium embossed matt woodgrain finish
Dimensions: 5000mm (length) × 203mm (width) × 5mm (depth)
Weight: 5kg per board
Visible face when assembled: 167mm in height
A pack of 4 boards covers approx. 3.334m² (0.84m² each)*
*(Coverage may differ due to the amount of apertures within the wall construction)
The durability you demand
The secret to Coastline's hard wearing, long lasting looks and performance is its innovative composite structure – a patented triple composite of polymer resins, inorganic minerals and acrylic colorants that is extruded to give excellent dimensional strength and stability.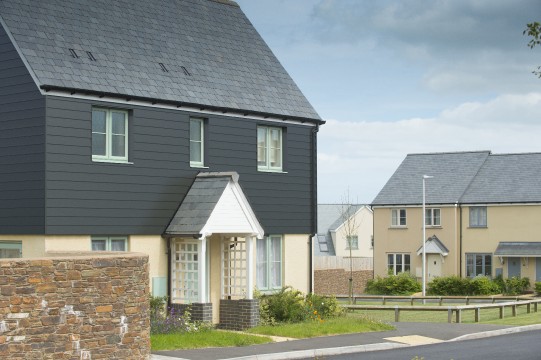 Technical accreditation
BBA Certified
BS EN 13245-2:2008 PVC-UE profile for internal and external wall and ceiling finishes
ISO 2796 Dimensional stability
BS EN ISO 178 Flexural strength
BBA T1/05 Voids appearance and dimensional checks
BBA T1/04 Density
BS EN ISO 3451-1 Ash content
BBA T1/07 Fixings pull through strength
BS EN ISO 180 Izod impact strength
BBA T1/06 Hard body impact
BS EN ISO 2409 Cross cut test
BS EN 12608, clause 5.8.3 Colourfastness (resistance to UV ageing) - all primary colours for cladding boards and powder coated aluminium joints
BS EN 13245-2, Annex B and Annex C - Resistance to Impact after UV ageing
Safety and sustainability
Our priority has always been the 100% safety of our products, for those who install them and those who live with them in their homes. Coastline is no different. With the fire safety of exterior cladding under constant scrutiny, Coastline has been rigorously tested and is D rated to BS EN 13501. This means it conforms to British and European standards in Reaction to Fire and Single Flame Combustibility tests and is certified for use as an exterior wall insulation in all approved applications.
All the materials used in its manufacture are 100% recyclable. Because it's made from such a durable, long lasting composite, it never needs painting or treating with preservatives, both of which can contain volatile chemicals that can be harmful to the environment.
Unlike cement board, cutting Coastline panels to length releases no harmful silica dust, which has been linked to several serious respiratory diseases, including lung cancer. Plus, of course, you've got the peace of mind that comes from knowing they're all manufactured to the highest quality standards and fully BBA and BSI accredited.