The durable alternative to timber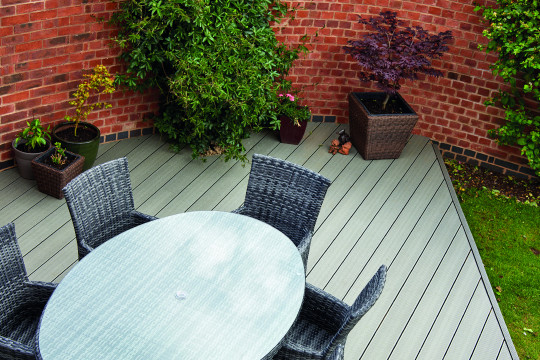 Composite hollow decking is perfect for gardens, patios, pool areas and holiday homes. Its recycled wood polymer construction makes composite wood so much more durable than timber.
Composite wood has added resistance to damage from a variety of the common threats to the appearance of decking; whether that be bicycles, barbecues, party-goers, paddling pools or garden furniture. Scrubbing and staining your deck every year is a thing of the past with composite wood decking.
It comes in four natural shades that resist the fading caused by sunlight and air pollutants. The colour is also constant through the entire core of the product so composite wood's appearance with regard to its colour has greater longevity, with something as simple as an annual, light jet wash being enough to uphold this level of appearance.
Clever concealed fixings give a neat, flawless finish which can be installed quickly and easily making composite wood the ideal decking choice.
Hollow decking is made using a unique homogeneous wood polymer construction that maintains its high performancefor years and years without the need for time consuming maintenance and painting
Hollow decking is constructed from ethically sourced, traceable recycled wood from timber mills and recycled plastic polymer
Hollow decking is colour stabilised to protect it from UV rays and other fading effects
Hollow decking has 60% timber content to prevent damage. It is strong enough to withstand stiletto heels and is naturally slip resistant and splinter free making it safer for children, visitors and pets.