The Sustainable and Stylish Choice for Your Garden
Looking for a versatile and modern fencing option that fits a variety of garden styles? Look no further than Deeplas premium fencing. Its sleek colors and simple tongue and groove fitting system make it a perfect choice for any garden.
Not only does it look great and remain warp-free, rot-free, and splinter-free, but it's also environmentally friendly. By choosing our premium composite fencing, you can feel good about your choice to protect natural resources while still enjoying low-maintenance and premium-looking fencing. Join the increasing number of people who are choosing composite fencing for their gardens.
Features and Benefits
Simple tongue and groove fitting system
Reduced environmental impact
Tough and hardwearing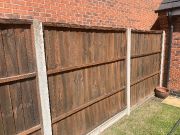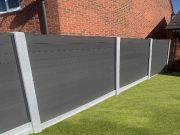 BEFORE AFTER
All fence posts are 2.4m in height and can be cut to the size required. If you are installing the fence onto concrete ground such as a driveway then the steel post mounts are required.
If installing on soft ground ensure that the fence is rooted strongly enough, and bury it at least 60cm into the ground. This will give strength to the post when installed.
When preparing the groundwork for the installation of the fence, you must ensure that the ground is as level as possible.
If the fencing is to be built on a slope, requirements must be made to the groundwork to ensure the fencing goes up in steps.
There is no gravel board which requires burying in the ground. Therefore the ground needs to be level.
Panels are 150mm x 21mm x 1830mm tongue and groove. The first panel will sit on the bottom rail, panels will then stack one on top of the next to the desired height.
Height can not exceed 6ft.