Oasis pergolas & verandas add a stylish extension to any property. And they don't just look good - they're extremely practical too. Helping to make use of outdoor spaces in all weathers.
They're made from carefully selected, high-quality aluminium, which is solid, durable and weatherproof.
Pergolas
The Oasis pergolas come in two options. The Deluxe pergola has a retractable roof and is available in eleven sizes. And the standard pergola has a fixed rotating louvre roof and is available in six sizes. You can also choose to have your pergola freestanding or as a canopy attached to the house. The pergola range are all manufactured with aluminium square frame in grey.
Oasis Deluxe Pergolas
A deluxe pergola gives you the best of both worlds. Have an open space above your head so you feel like you're sitting out in the open. Or cover up at the touch of a button if it's too sunny or starts to rain. So, whatever the weather, Oasis provides the ultimate outdoor living feeling.
They're available in eleven sizes, ranging from our smallest at 3 x 3.02m, to our largest at 4 x 6.08m.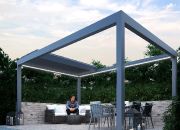 Oasis Pergolas
Using a remote control, your customers can easily tilt the louvres in the roof to a different position. So, they can play with the light, the shade and the airflow above them.
During the summer, Oasis pergolas provide the flexibility to either sit in the sun or take advantage of the shade. And in winter, experience the benefits of a waterproof roof, protecting against the elements.
They're available in six sizes, ranging from our smallest at 3 x 3.01m, to our largest at 4.95 x 3.5m.
Both options also come with the option of adding an LED light strip. Providing you an easy way to enjoy your space as the sun goes down.
Verandas
The Oasis verandas come in two options. The glass veranda has a glazed roof, and the polycarbonate veranda has a polycarbonate roof with four colour options. In addition, you can choose from three frame colours and two types of leg, guttering and footplate. It can be installed with one side attached to the property, or freestanding, away from the house.
They're available in three widths and five depths, ranging from our smallest at 4.06 x 2.50m, to our largest at 6.06 x 6m. All our verandas have an aluminium frame in a choice of three colours: white textures, cream white or grey textured.
Oasis Verandas with glazed roof
Enjoy the daylight and uninterrupted views of trees, birds and stars, under a beautiful clear glass veranda. The Oasis glass verandas aim to bring enrichment to outdoor life, and a feeling a pure luxury. They provide space to enjoy being outdoors, while offering shelter from bad weather. And a glass roof means they won't block out the light coming through the home's windows.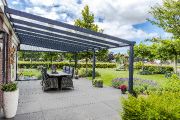 Oasis Verandas with polycarbonate roof
For a veranda that's finished to perfection and is fully customisable to your customers needs, then meet the Oasis polycarbonate roof veranda.
The polycarbonate roof veranda comes in a choice of three roof colours. For a clear view to see the sky and trees around you, choose a clear or ultra-clear roof. Or for a bit of protection from the sun, but still want plenty of light coming through, opt for opal or solar control.